Gmail Icon Notifier
New Version!
I have just realeased a new version: Version 0.8.
Version 0.8 is going to be my first release canidate. It includes new features and more stable code.
Anyone Who was having problems after installing the latest version should download the new patch:
Gmail Icon Notifier Patcher.exe
New features include:
New right click "Send To > Gmail Recipient"
The Notifier Icon will turn grey if you have no unread messages in your inbox
Task Manages shows a significant reduction in system resources.
A list of your Gmail contacts (with pictures) is availables when sending attachments.
Added support for different font resolutions
Fixed an error that was caused by not having a sound set for new email in windows
I have also changed the way the program opens emails and your inbox to try to work around some of the new issues presented by Google's new authentication method.
Please enjoy the new version and I welcome your feedback
Features
Adds Gmail as the Default Email Icon in the Start Menu.
Automatically signs you into your Gmail account.
Updates the number of unread emails
(useful on things like the G15 keyboard and laptops with the little email light)
Adds Gmail to the list of Default Email Programs.
Supports multiple Gmail Accounts
Notifies you of new email.
Some other things about the program I hope to get to as time allows.
I want to add more options to the animation and placement of the notifier.
I am also looking at having multiple notifiers for multiple accounts.
(Currently only one account can be set to notify you at a time.)
I am also working on Windows Messaginag API support.
You must have the .NET Framework 2.0 installed for this to work.
I suggest using Windows Update to Install it if you don't already have it.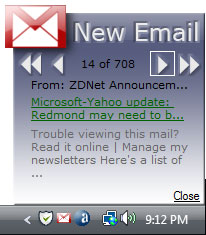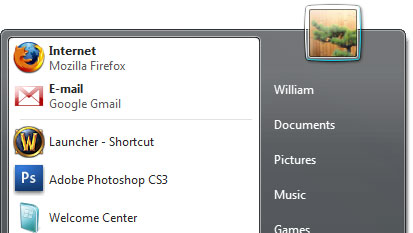 Comments powered by

Disqus